What you need is a system and tools to reach the right guests at the right time...
What Is Book Direct Pros?
Get years of expertise packed into a video course library with new topics and tools added each month plus private and group mentorship from me! Join Book Direct Pros and have access to the entire library OR choose to purchase courses one at a time! You'll get step-by-step instruction, real life examples, workbooks, and monthly live workshops or Q/A calls with other members. PLUS, tech toolboxes added often with tech tutorials on a variety of different subjects.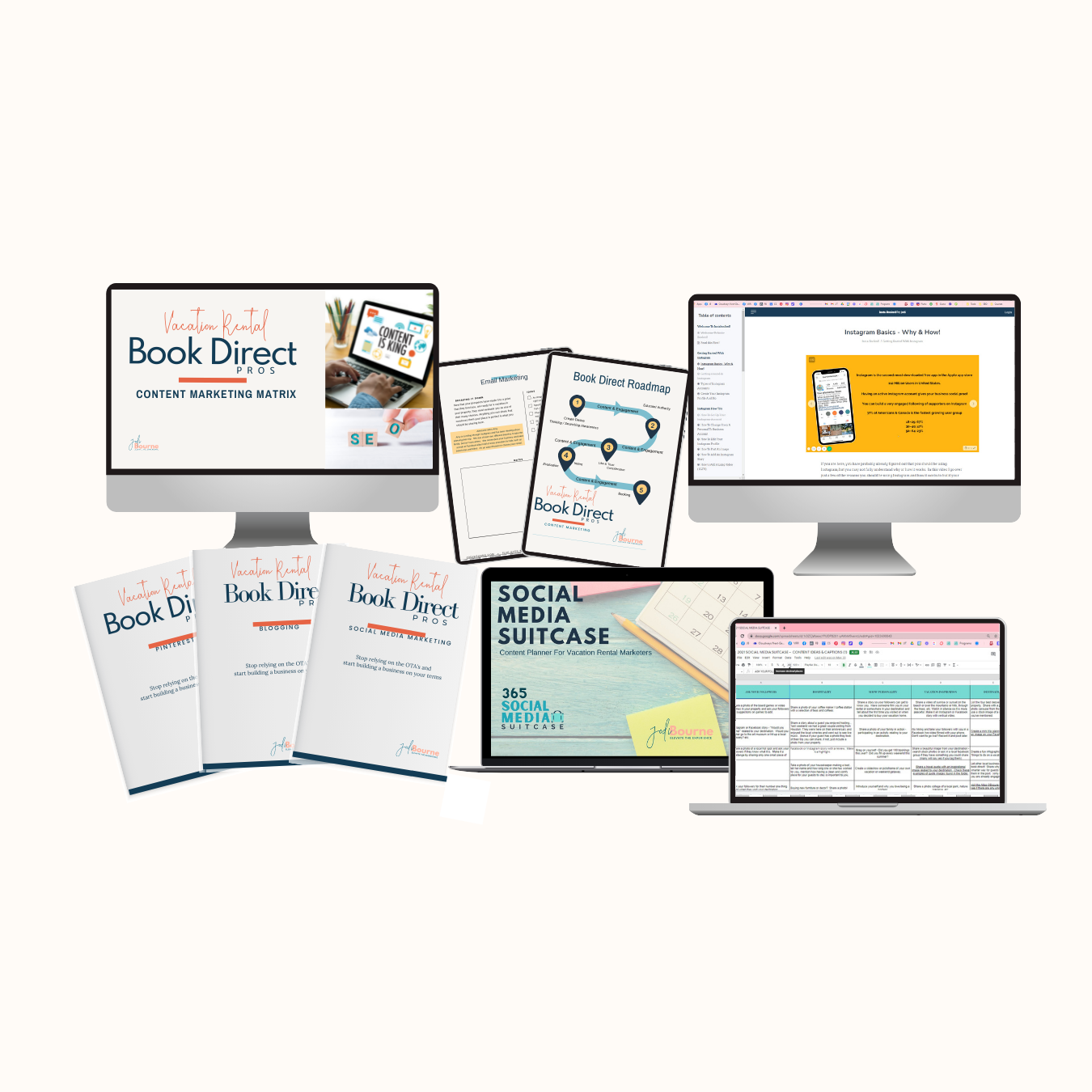 What's Inside Book Direct Pros?

Each of these programs and more is inside your Book Direct Pros Mentorship. You can purchase each one individual by clicking the image below, but why not get them all with a membership to the program. Cancel at any time after your first quarter.


Frequently Asked Questions
I run a glamping business, Inn, boutique hotel...is this right for me?
YES! This program is for any accommodations based business who values the guest experience and wants to stop relying on Airbnb, VRBO and other online booking sites (OTA's).
I don't have a website - is there anything here to help me?
Of course! I teach book direct strategies, but almost all marketing strategies can be learned and used even if you don't have a website yet!
I'm a property manager, should I sign up?
Definitely! If you are marketing your property online and want to increase your direct bookings, this program will help you succeed!
What if I can't attend the monthly meetings?
Everything is recorded for you to listen to in the future!
Can I cancel anytime?
The membership is paid either quarterly or yearly. To cancel after your first term just let me know.
Is there a refund?
Once you have signed up for the program you have full access to all the content inside, therefore I do not issue refunds. I will work with you to figure out how I can best support you so you feel you have received your money's worth. (PS: I have never had anyone ever request a refund of my products or services.)
When are new courses added to the membership?
Courses and toolboxes are added often, with training videos from the live group coaching added each month. One month you may have a short video lesson added with a tutorial on how to create a reel in Instagram, the next month a video training and workbook on Pinterest. I have tons and tons of recorded lessons available, so if you are looking for something specific, need help with a new tool, chances are, I have a video I can add to the program. I'm here 100% to help you succeed.
When are the group calls?
Monthly group calls are near the middle of each month and audio recordings are added frequently throughout the month. There have been months, such as near Spring Break when we pushed the call back a week. I try to hit the calls at various time slots so members from all over the place can join live occasionally. We've had 8am meetings, 2pm meetings and 7pm meetings and I vary these time slots and days monthly. (central time zone)
Can I just buy one of the courses alone?
YES! Many of the courses and programs are available for purchase individually about one month after they have been released to students in the membership. But, you will not get the private support, audio updates or group coaching call.
What makes this program different?
I'm so glad you asked. Book Direct Pros is more than a course. It's more than a training. It's a MENTORSHIP. I work with you; supporting you in your journey of becoming a direct booking rockstar! It is the only industry program built exclusively for individual owners or boutique property managers.
Why am I different?
Because I care about your guests experience as much as THEY do! My mission is for every guest to have an amazing vacation and to help hosts like you create a world where everyone can travel like a local.