My Social Media Suitcase Is Packed With Goodies And You'll Get More Every Single Month!

Slides and recordings from my ROCKSTAR Social Media Strategy Presentation
Planning Calendar for the remainder of 2022 and all of 2023.

Get your creative juices flowing with daily prompts, reel and story ideas.

Become the Destination Expert with monthly fill-in-the-blank captions geared to highlight your knowledge.

Pick and choose from multiple calls to action to encourage bookings, inquiries, DM's, newsletter signups and engagement.

Canva Graphics And Video Templates PLUS Done For You Quote Graphics for those days when you don't have time or energy to think.

Tons of new captions, ideas and stories added MONTHLY, based on seasonality, holidays and upcoming events.

New triining tools and extras dropped monthly
Get highlighted for your efforts with additional prizes throughout the year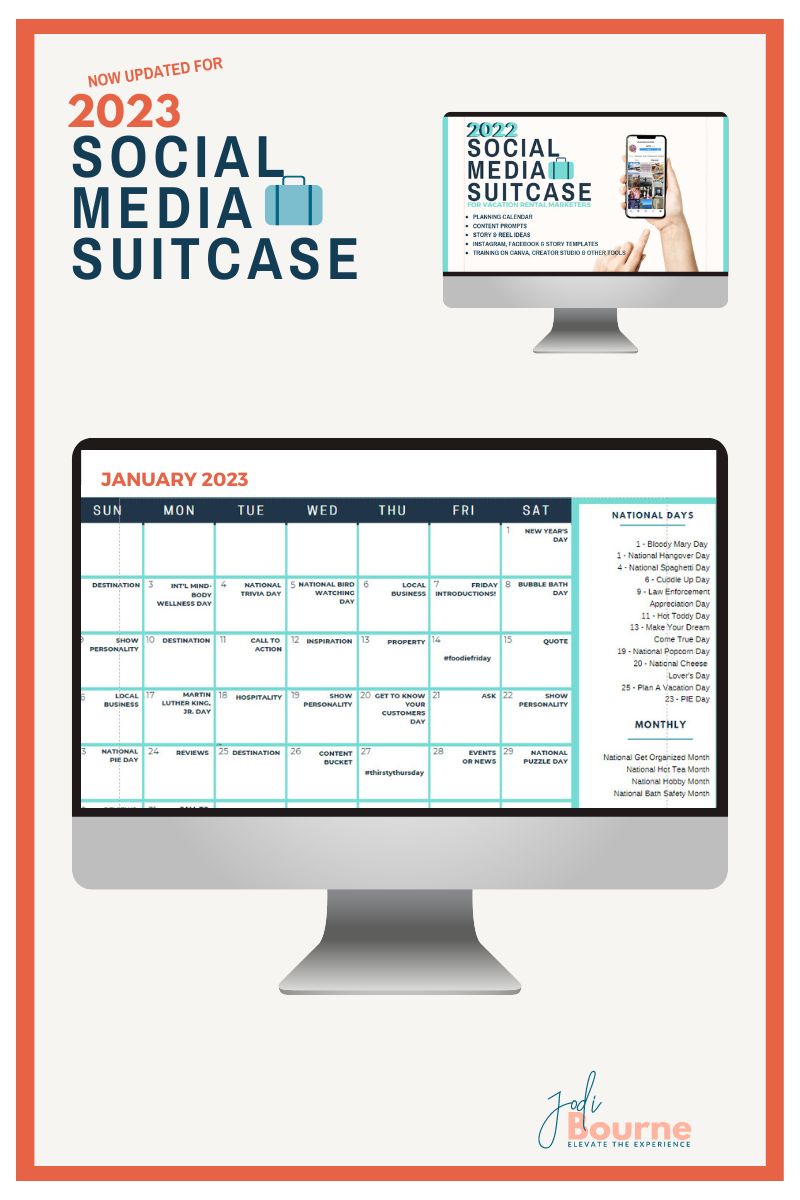 And There's So Much More!
Keeping up with the latest social media trends, endless updates, tools and more is time-consuming and impossible if you are running a business. So let me do it for you!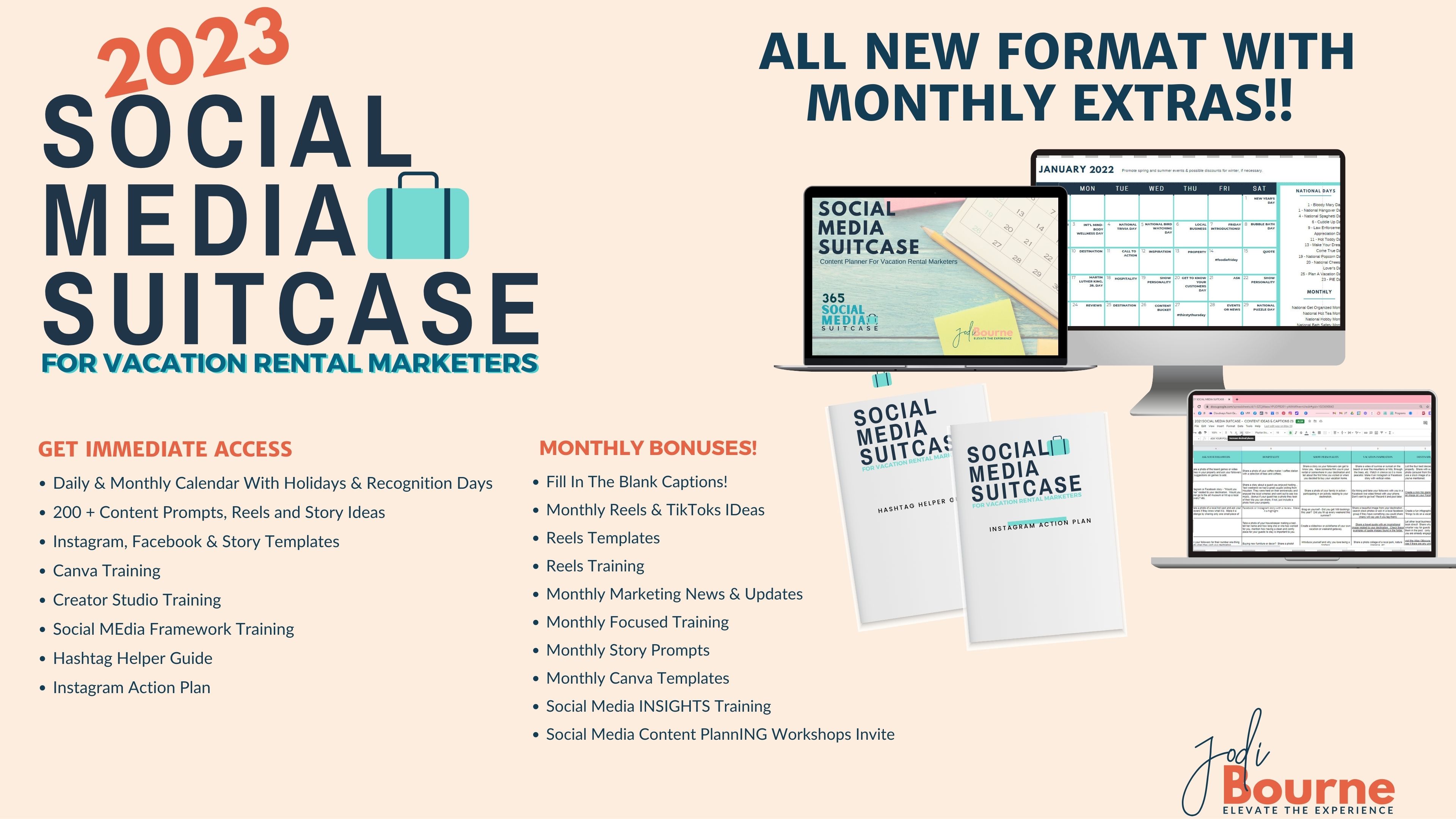 Training & Videos
Learn social media from a vacation rental marketer with additional training videos, and workbooks.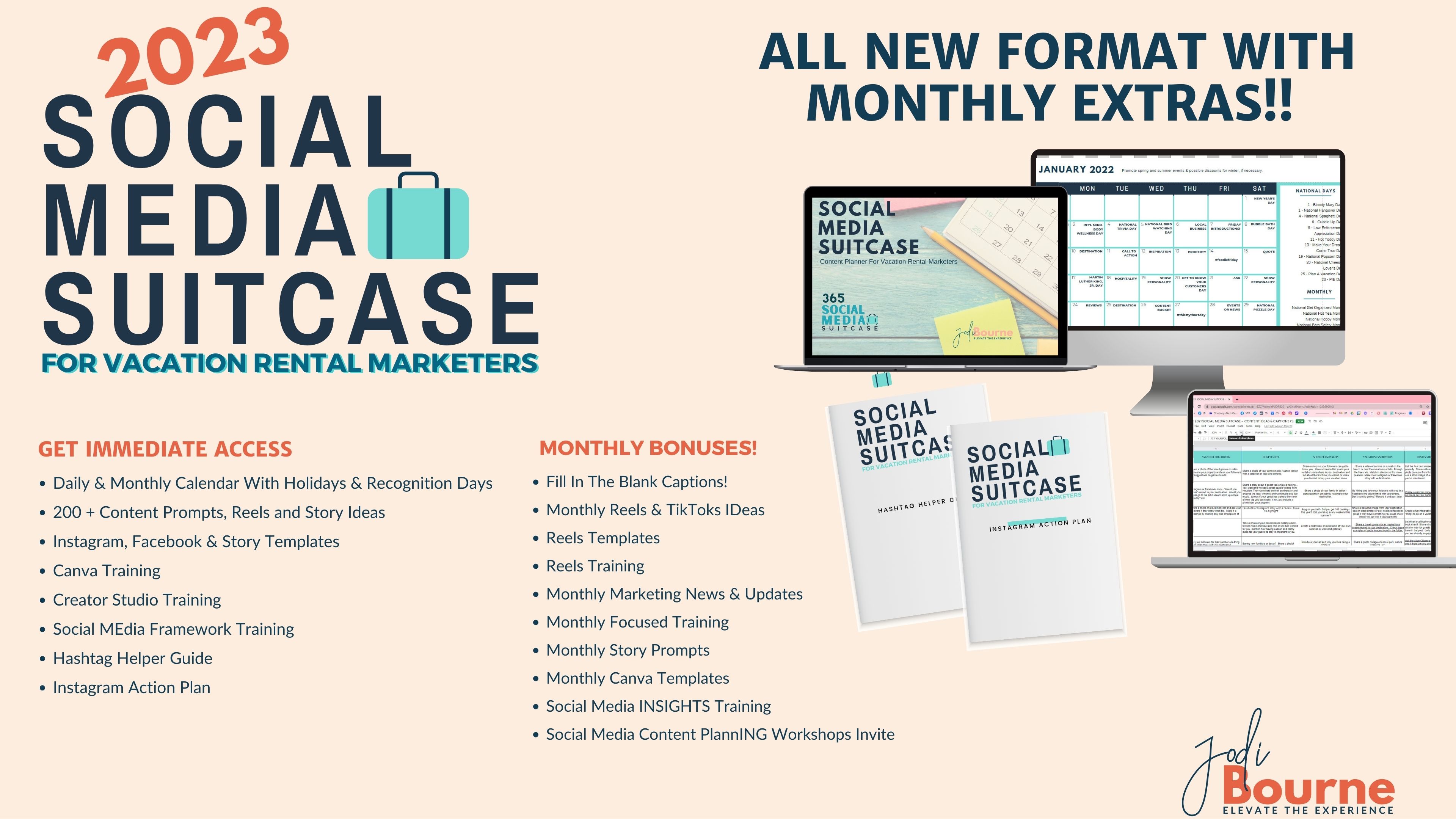 Workshop Slides & Videos
Get my slides and videos from previous workshops and conferences on social media strategy, Pinterest, and email marketing.

Monthly Updates
New content added each month - graphics, templates, reel and story ideas + keep up with all the latest social media updates!


My Go-To Marketing Help
In the last four years of knowing and interviewing Jodi, she has become one of my go-to digital marketing experts.
~ Heather Bayer
Vacation Rental Success Podcast & Vacation Rental Formula
Worth Every Penny
"Absolutely love Jodi's teaching materials & style for social media marketing. Her Social Media Content bundle is spot on and you can't beat the price. It's 365 days of social media post ideas I never would have thought of myself. It's worth every penny."
~ Cat Tierney
Caszatt Condos Galveston 

A True Expert
"I follow everything Jodi says and watch every video she posts. Her Instagram course is fantastic and the social media calendar is priceless. She is a true expert in this industry. "
~ Andree McDonald
Southern Hospitality Vacation Rentals